LCP 2 Lite Pistol
The Ruger LCP II Lite Pistol is a lightweight, compact, single action, magazine fed, recoil-operated pistol. The LCP 2 incorporates a "link-less" barrel, an alloy steel slide, and a glass fiber reinforced nylon grip with an aluminum insert. The strong locked breech action of the Ruger LCP 2 pistol utilizes a tilting barrel design in which the barrel and slide are locked together at the moment of firing.
Features for Ruger LCP II Lite Pistol

Lite Rack system includes refined slide serrations, pronounced cocking ears and a lighter recoil spring, allowing for easy slide manipulation.
Low recoil for comfortable training. Optimized to function with high-velocity ammunition.
With a patent-pending floorplate assembly, the magazine offers a very compact 10+1 capacity, extends the grip for improved control and retains the LCP II's popular last-round hold open function.
Manual safety is oriented in a push-forward-to-fire configuration that is instinctive and unobtrusive.
Compact and lightweight, the LCP II is designed to fit a variety of holsters.
Textured grip frame provides a secure and comfortable grip. Larger grip frame surface provides better distribution of recoil forces.
Fixed front and rear sights are integral to the slide, while the hammer is recessed within the slide.
Rugged construction with through-hardened steel slide and one-piece, high-performance, glass-filled nylon grip frame.
Utilizes Ruger's safe, reliable and proven Secure Action fire-control system that combines a protected internal hammer with a bladed-safety trigger. The trigger has a short, smooth pull, clean break and positive reset.
Additional safety features include a magazine disconnect; neutrally balanced sear with significant engagement and strong spring tension; and hammer catch to help prevent the hammer from contacting the firing pin unless the trigger is pulled.
Satin, stainless steel barrel.
Accepts all existing LCP II accessories with the exception of magazines chambered in .380 Auto.
Also includes: one magazine and magazine loader.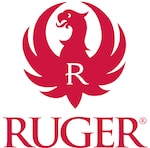 Made In United States of America
1.350 Pounds