Iver Johnson Snakeskin Pistol
Iver Johnson offers premier Series 70 1911 pistols which come with a flat, serrated, steel mainspring housing to hold up to the rigors of an everyday shooter, and our pistols have a finger relief cut near the trigger guard for a more comfortable shooting experience. All 1911 models have a forged slide and cast frame, which are CNC machined and then hand fitted to exceptional tolerances.  Each slide is fit to an individual frame to give it a tight out of the box fit.
The Iver Johnson 1911A1 Snakeskin Pistol features GI style external parts, GI fixed rear sight and dovetail font sight, as well as rear vertical serrations. It also offers a slightly beveled magwell to make magazine changes quick and easy, and a set of unique snakeskin finishes which are sure to be a crowd pleaser!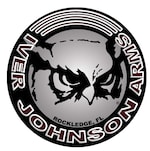 Made In United States of America
1911A1 Snakeskin Pistol
Product Information for Iver Johnson 1911A1 Snakeskin Pistol
| | |
| --- | --- |
| Cartridge | 45 ACP |
| Action Type | Semi-Automatic |
| Capacity | 8+1 Round |
| Magazine Quantity | 1 |
| Weight | 42 Ounce |
| Overall Length | 8.5 Inches |
| Barrel Length | 5 Inches |
| Threaded Muzzle | No |
| Compensated | No |
| Front Sight | Fixed |
| Rear Sight | Dovetail |
| Slide Material | 4140 Steel |
| Slide Finish | Moccasin Snakeskin |
| Frame Material | Steel |
| Frame Finish | Moccasin Snakeskin |
| Grip Material | Synthetic |
| Grip Style | Smooth |
| Grip Color | White Pearl |
| Country of Origin | United States of America |
| Trigger Type | Single Action |
| Safety | Thumb |
Delivery Information for Iver Johnson 1911A1 Snakeskin Pistol
5.000 Pounds